Our Pourtables packs, or more commonly know as drip coffee bags, are most similar to a pour-over brew method (Pour + Portable = Pourtables. Get it?). But because we care about your brew, we have already done the grinding and weighing for you, adding 11g of specialty ground coffee to our drip bag or sachet that can be easily placed onto your favourite mug or cup and brewed. We also nitrogen flush the sachets then seal them up so they are ready to be brewed wherever you are for up to 18 months!
Oh, and once you're done brewing, the Pourtables Box can be recycled, the packet can recycled via the Redcycle scheme and the Pourtables sachet can be composted.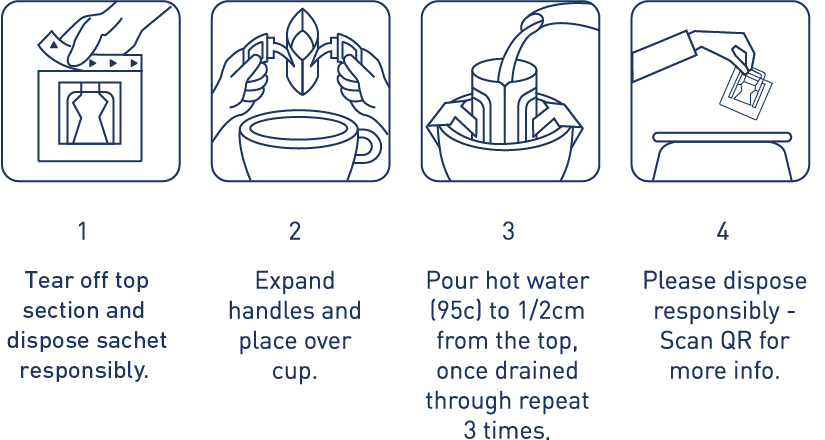 To use our Pourtables, simply follow the below steps - you'll find these instructions on each individual Pourtables pack:
Carefully tear off the top of section of the sachet along the removable edge.
Expand handles and hook them over your favourite cup so it's nice and secure.
Pour hot water (95 C) up to 1/2cm from the top. Once the water has drained through, repeat this process up to 3 times.
Remove the sachet and dispose responsibly. You can scan QR code on packs for more information on how to do this.
Customer reviews
Frequently asked questions
How many times can you use a single Pourtable?

How much and what water temperature is best?

Can it be used with milk?

How many Pourtables are there per pack?

What is the shelf life?
People who bought Trailblazer Pourtables also bought these items