The P&R team were in force at this year's Melbourne International Coffee Expo (MICE). It's been a few years since we've been able to come together as an industry for an event like this and this year in particular a special one. Every year the world barista championship and world brewers cup are held in a different country and this year was Australia's turn to host the world coffee community, and showcase our local coffee culture. Along with the coffee competitions is a trade event that showcases what is happening in the coffee world and what is up-and-coming in coffee equipment and technology. For coffee nerds like us, this is heaven!
World Barista Championship
We won! Well, Anthony Douglas from Axil coffee roasters won. As the sole Australian representative the entire Australian coffee community got behind Anthony as he went through the 3 rounds of competition to ultimately win the biggest prize of world's best barista. For those unfamiliar the barista competition is a 15 minute performance, where you prepare and present 3 rounds of coffees to 4 sensory judges; 1. Espresso 2. Milk beverage 3. Signature beverage. The first 2 rounds are self explanatory. The signature round allows the competing barista to be creative and build a beverage with their choice of coffee as a base. The winner is decided by the 4 sensory judges along with 2 technical judges and the head judge. Anthony will now spend the year as the World's (and Australians) ambassador to coffee.
World brewers cup
This coffee competition differs from the world barista championship in that only unaided brewing devices can be used to make your coffee. This means no electronic powered brewers allowed. This competition consists of 1 round or coffee made for 3 judges. Each judge is made a separate coffee and all within the 10 minutes allowed. This competition really allows the competitor to showcase their coffee to the judges. The Australian representative, Harry Ko from Bennetts green coffee traders, did an amazing job and placed 8th in the world.
Outside of these events this is the perfect place to come to meet other coffee professionals, exchange ideas and share information. Coffee equipment manufactures, importers and producers are also present to showcase the newest developments in coffee. We were lucky enough to try out a few pieces of equipment that are due to be launched to the public over the next little while and wanted to share some of our findings from a couple of bit of tech that caught our attention.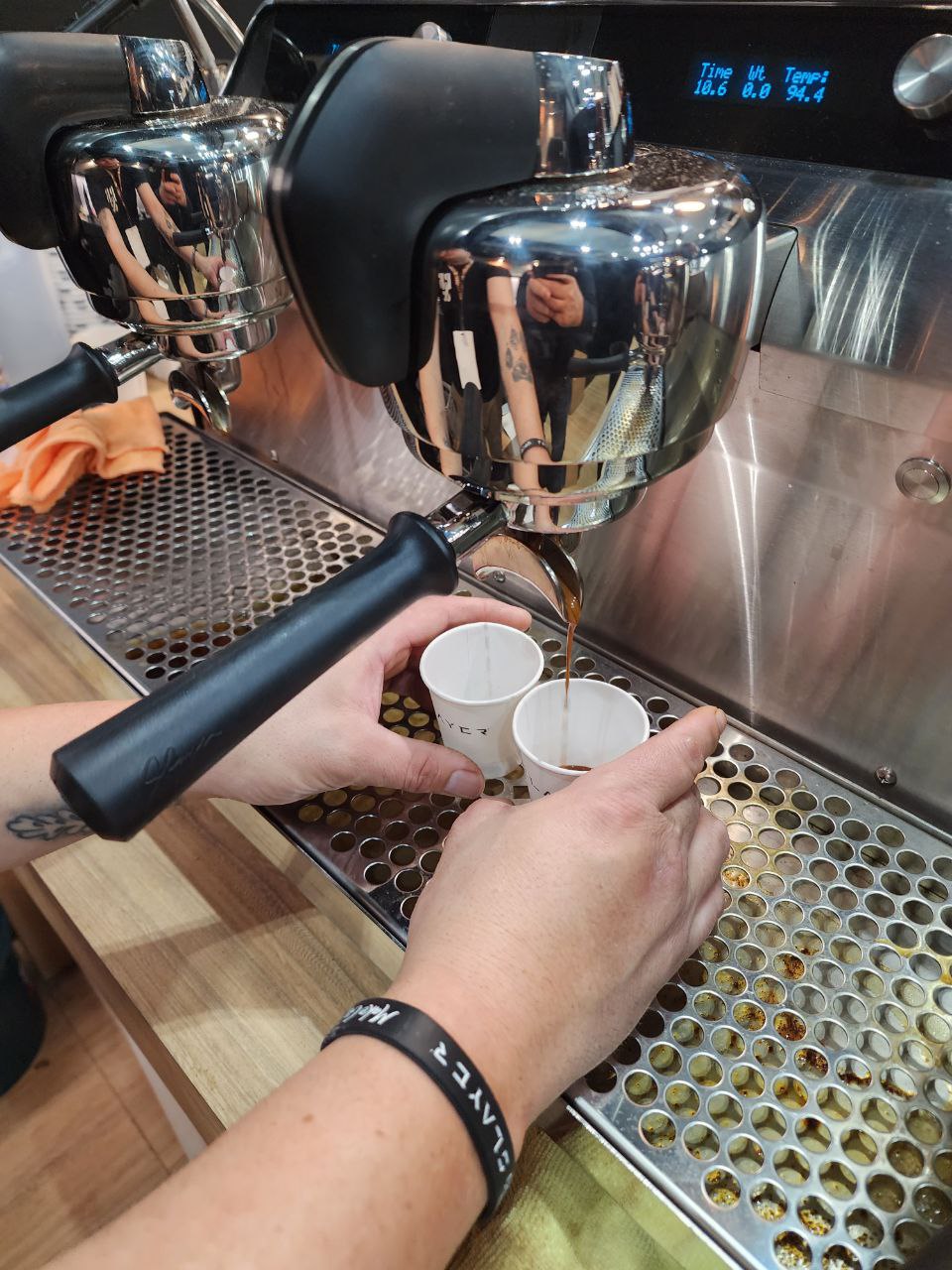 Heylo Coffee
This bit of kit is really exciting. A modular concept espresso machine, meaning espresso extraction (grouphead) and milk dispensing get its own standalone unit. This allows flexibility of having as many groups as necessary and the option of adding on as your volume grows. Not only is the espresso group module valuable in its flexibility to add and take away when needed but it works off an instant-heating induction system. This means no boilers which saves on energy (only heat when you need to) and space/size. The plug-and-play design means you're able to use standard power points available to run the equipment. There are a ton of other features within the espresso group module, including fully customisable recipes and extraction.
The milk dispensing module is no slouch either. This allows the user to dispense 2 different high quality textured milks. Using a similar concept as the espresso group module, the milk is heated and textured on demand using induction technology. They've incorporated a purge function to allow the use of 2 milks and to mitigate any cross contamination. If this works out in relation to the rest of the modules and workflow this is a bit of a game changer. However, not having access to a steam wand in this scenario limits the user to the 2 milks that are setup making options for the customer narrow (you could always have 2 milk modules?).
Still yet to be fully launched, Heylo are still working through some features that will make this a very intuitive coffee machine whilst saving on wasted energy and space.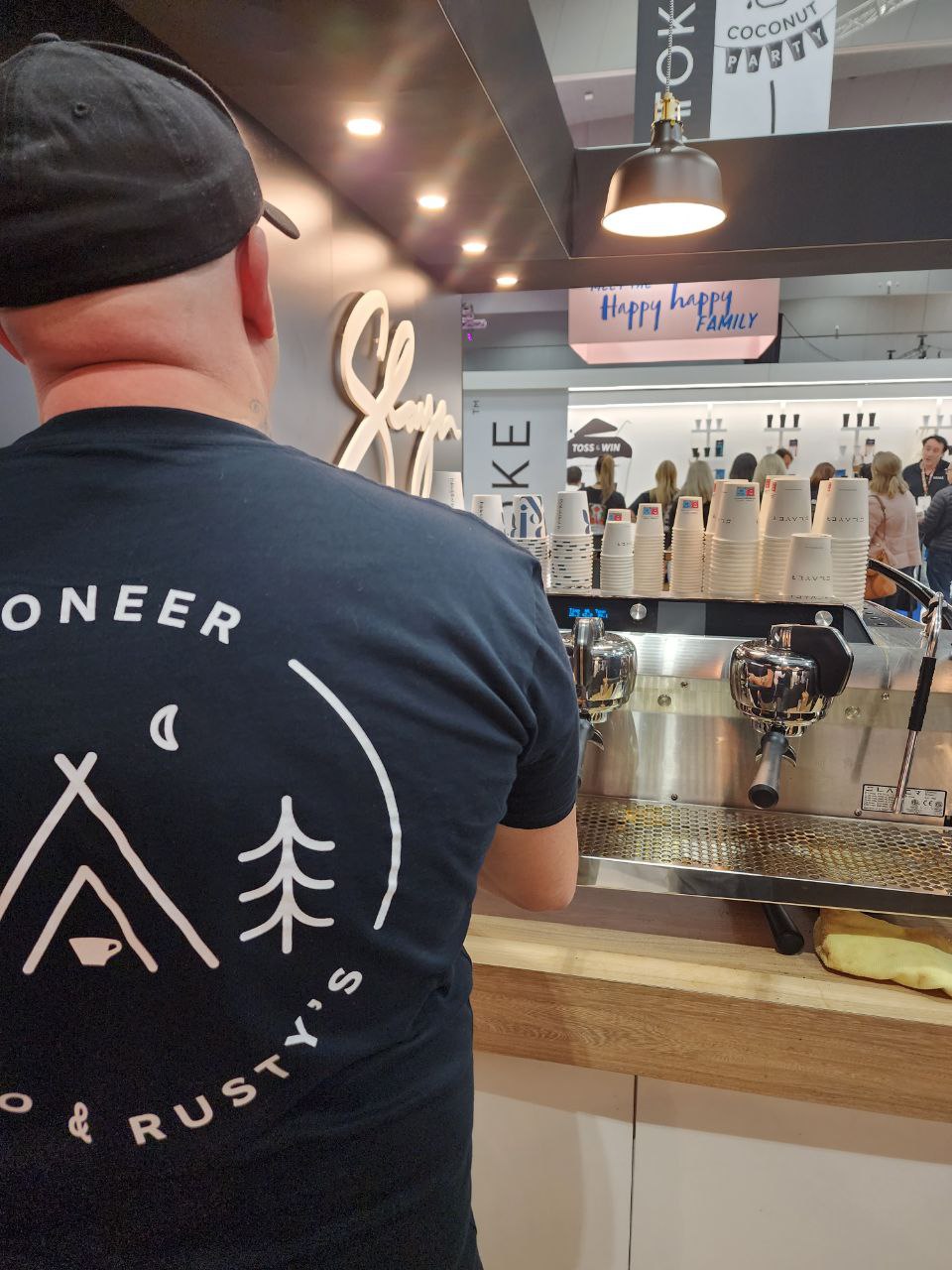 X-One
We also got to check out the X One grinder on the San Remo stand. This grinder comes in at a whopping 40 kgs in weight, so it needs two people to lift. It is fitted with two hoppers and a scale system that weighs the beans first before it grinds. It also has the option to pre-prepare a ground shot to speed up workflow (which is also weighed before grinding).
Along with the double hopper functionality It has an extra shoot at the front which enables you to bypass the hoppers which enables the user to do a single dose like on an EK-43. The burrs do come with an 11 tonne rating to match the extra usage this grinder may endure, but of course this depends on density of the coffees going through it. Another pretty cool feature of this grinder is that they've made the burr adjustment digitally controlled, so there's no manual adjustment of the grind size and comes with a handy recalibration mode. This all-in-one grinder has a lot to offer, if these features can be used on a busy bar efficiently while creating a more consistent product then the sky's the limit for cafe's wanting to use this grinder. If used well it will ensure consistency of dose and adds extra layers of flexibility all while saving on that precious cafe bar space.
MICE is always a great event to test new equipment, taste new coffees and meet people from all parts of the coffee industry. We love being able to explore new technologies and to see what the future of coffee may look like. For now we are back into our regular routine in Sydney, producing the best coffee with the most positive impact we can whilst patiently waiting for the time we can get our hands on this new equipment, to hopefully be able to share with our lovely coffee network.