Want to know the secret to making incredible coffee on your pod machine? Simple. Keep it clean and well-maintained. It may not be glamorous, but taking steps to ensure your coffee pod machine is in top condition goes a long way towards enhancing the flavour of your brew.
Here are some simple tips to get you started:
Use Nespresso cleaning pods regularly
Cleaning pods take the hard work out of keeping your machine clean. Suitable for most pod coffee makers, all you need to do is make sure the water tank is full of freshwater, insert a capsule, and run the machine at the maximum amount of water several times.
If you're looking for a great cleaning capsule for coffee pod machines, we love ECO Capsule Clean. It's a simple-to-use cleaning capsule that thoroughly cleans coffee oils from the brewing chamber and delivery spout. It's also 100 percent biodegradable, made from recyclable foil, and free from phosphates and GMOs; so a win for the planet too.
Use filtered water
Water quality affects even the best coffee pod machine on the market. Tap water contains a lot of dissolved substances that can cause limescale build-up in your machine (if you've ever peeked inside an old kettle that's never been cleaned, you'll see what we mean!). This can prohibit water flow, cause blockages and damage your machine, resulting in costly repairs. It can also affect the taste of your coffee.
To reduce this risk, try using filtered water in your machine. The BWT jug is designed to remove offensive sediment and inhibit limescale build-up in coffee pod machines by reducing the number of heavy metals in the water. And there's a bonus: the jug also adds magnesium into the water, which improves the extraction process and creates a much tastier coffee.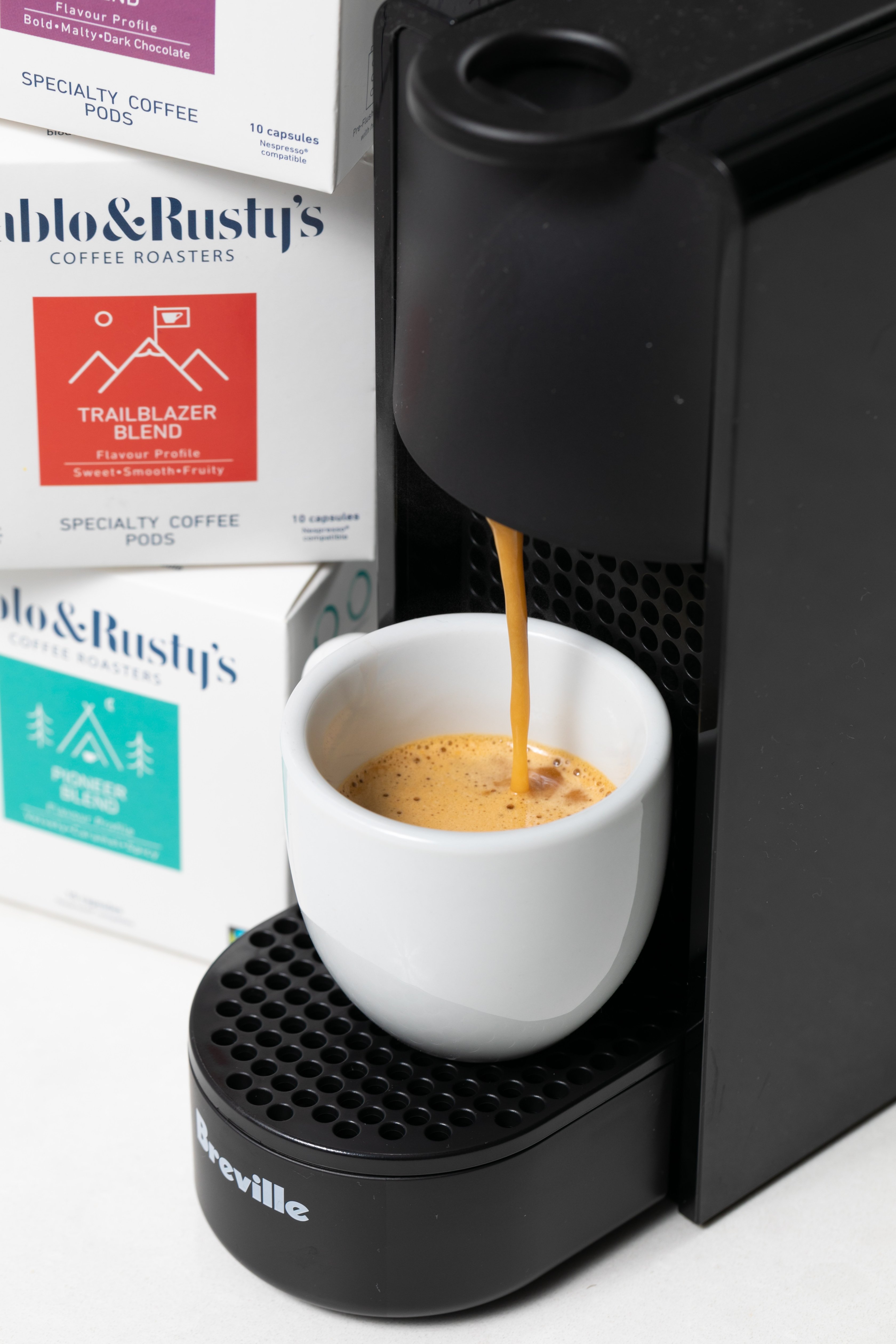 Flush your machine as you use it
It's a simple step, but so easy to forget! Before and after you make a coffee with Nespresso coffee pods, remember to flush your machine for a few seconds with water. This helps remove any coffee residue inside, so you can start with a fresh machine each time you make a coffee.
Look after your steam wand
Remember to clean the milk from your steam wand after you make a coffee on your pod machine. This not only improves the flavour of your coffee but keeps everything hygienic. Each time you texture your milk, wipe the residue with a clean damp cloth and purge the wand by fully turning the steam on for a few seconds.
To remove caked milk from the tip of your wand, fill a jug with hot water and soak the wand in it. Blocked wands will need to be cleaned with a steam wand tool. We show you how in this short instructional video.
Pablo & Rusty's is a specialty coffee roaster based in Sydney. We source specialty-grade beans from around the world and roast them sustainably for use in cafes and at home. For more information, visit our website.
Click here to explore the full range of Breville espresso machines. P&R is an affiliate of Breville.com/au