Brewing the perfect cup of coffee can be a very rewarding process - and if we admit, sometimes a bit of an obsession for the team at P&R. Whether you are aiming to extract a delicious espresso shot, or brew a balanced pour over coffee; these methods take equipment, time and skills to nail the perfect coffee.
These methods are great at home and for budding baristas, but sometimes you don't have all the equipment on hand, or simply don't have the time to weigh your coffee, find the right grind setting, heat up brewing equipment and cups, measure the extraction weight - the list goes on.
We are always looking for ways to offer a coffee format for everyone, so you can enjoy delicious specialty coffee no matter where you are on your coffee journey (or any location for that matter). Perhaps you've always wanted a brewing method that can be thrown in a backpack and brewed on a hike, with no equipment needed, just hot water. We already offer some super tasty, no-fuss brewing methods, like our delicious coffee concentrate - just add hot water or chilled milk / milk alternative, perfect for the iced coffee lovers out there!
We wanted to add a freshly brewed coffee experience to our convenience line up - drum roll, please…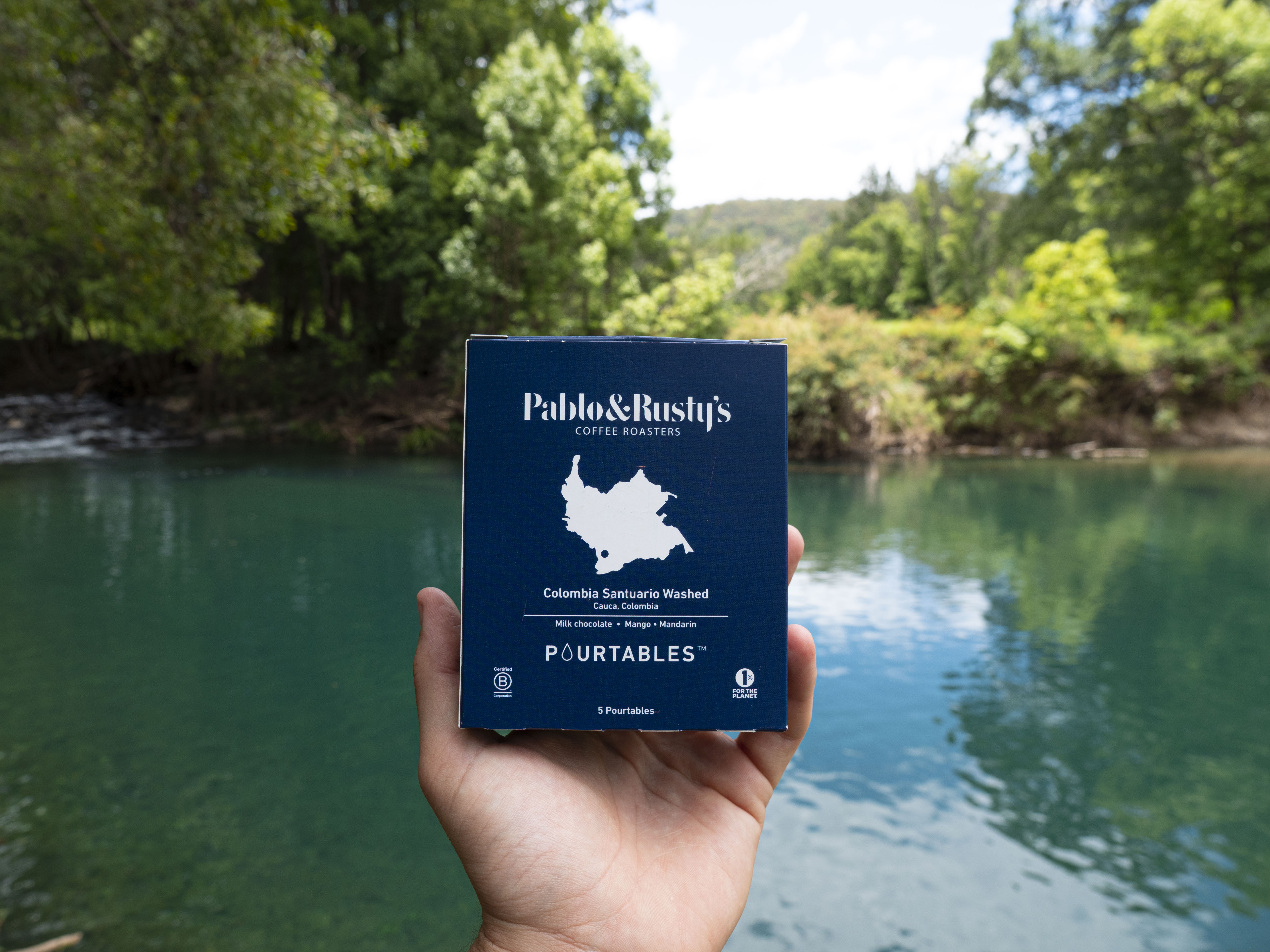 Introducing our new take on drip coffee bags - Pablo and Rusty's Pourtables! We think it's the easiest brewing method for… anywhere really! Take a pack as a travel companion on a flight, camping, to work - anywhere you have access to hot water!
Our Pourtables packs, or more commonly know as drip coffee bags, are most similar to a pour-over brew method (Pour + Portable = Pourtables. Get it?). But because we care about your brew, we have already done the grinding and weighing for you, adding 11g of specialty ground coffee to our drip bag or sachet that can be easily placed onto your favourite mug or cup and brewed. We also nitrogen flush the sachets then seal them up so they are ready to be brewed wherever you are for up to 18 months!
Oh, and once you're done brewing, the Pourtables Box can be recycled, the packet can recycled via the Redcycle scheme and the Pourtables sachet can be composted.
How To Brew With Pourtables
To use our Pourtables, simply follow the below steps - you'll find these instructions on each individual Pourtables pack:
Carefully tear off the top of section of the sachet along the removable edge.
Expand handles and hook them over your favourite cup so it's nice and secure.
Pour hot water (95 C) up to 1/2cm from the top. Once the water has drained through, repeat this process up to 3 times.
Remove the sachet and dispose responsibly. You can scan QR code on packs for more information on how to do this.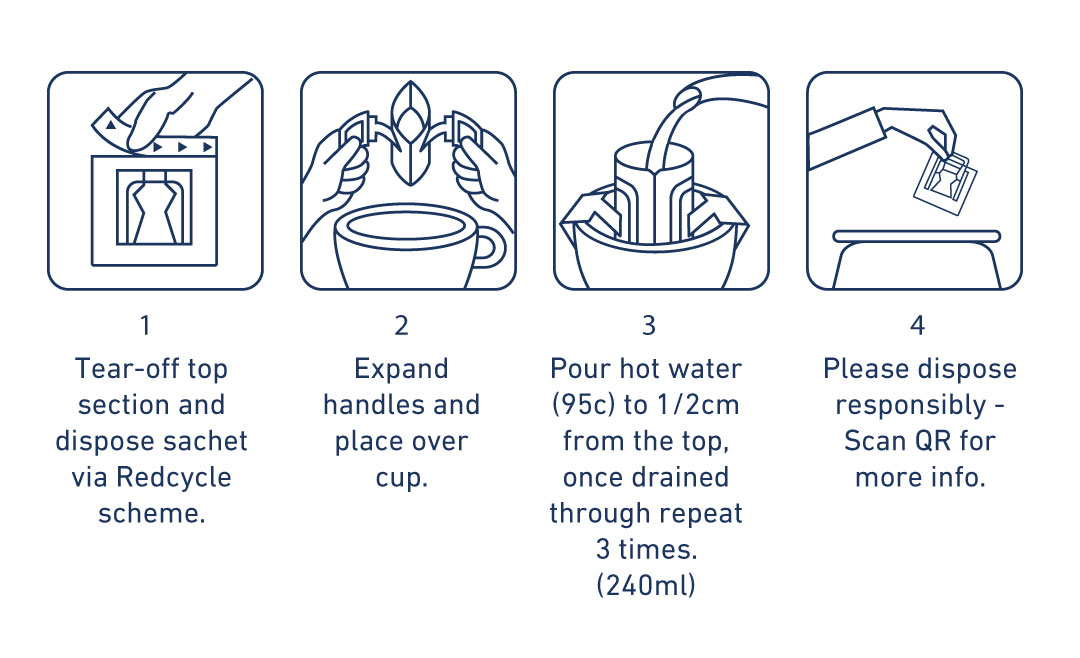 We've also put together this simple video explaining "How to Pourtable"
Pick Your Pourtable
We've developed three core Pourtables to choose from:
Trailblazer Pourtables: Our original blend is perfect for Pourtables.
Trailblazer offers a sweet, complex and fruity cup. It is the lightest roast profile of our three blends and serves as both an excellent stand-alone black coffee and medium body milk coffee. Best for milk / Good for black!
Ethiopian Naturals Pourtables: We wanted to present a natural processed Ethiopian coffee for our Pourtables. We selected these two nearby regions in Ethiopia that highlight Ethiopian coffee's famous delicious fruit-forward characteristics. The Yirgacheffe brings forth beautiful berries and stone fruit notes, whereas the Kochere brings lashes of tropical fruit and melon.
This is still a single-origin coffee using two exceptional-quality micro-lot coffees. We think this tastes exceptional black and has the depth and character to pair with milk or dairy alternative if that's your thing.
Colombian Santuario Washed Pourtables: Not your run-of-the-mill washed-processed coffee, this lot undergoes a 2-hour soak (coffee cherries only being picked when they have reached 24 Brix) before it is then de-pulped and 25% of the mucilage is left on the coffee.
It's then put into tanks without water for 12 hours to complete an aerobic fermentation. After this, the coffee is dried for 22 days on raised beds until 12% moisture is achieved. The special treatment isn't just for the processing. The owner Camilo Merizalde set out to encourage as much biodiversity as possible to work in harmony with the coffee trees. Fill your cup and enjoy - best for black!
Pourtables Pack: Cant decide? Try all three with our Pourtables pack.
"We're excited to see our Pourtables come to life, we've been working on them for some time now. We were committed to finding the best coffee to include in our Pourtables program. Ensuring this brew method allowed these exceptional coffees to really shine. We think they are one of the best ways to enjoy specialty coffee anywhere. We've done the hard work for you in an effort to help more folks drink coffee that does good and creates a positive impact." - Phil, our Head of QA and Brewing.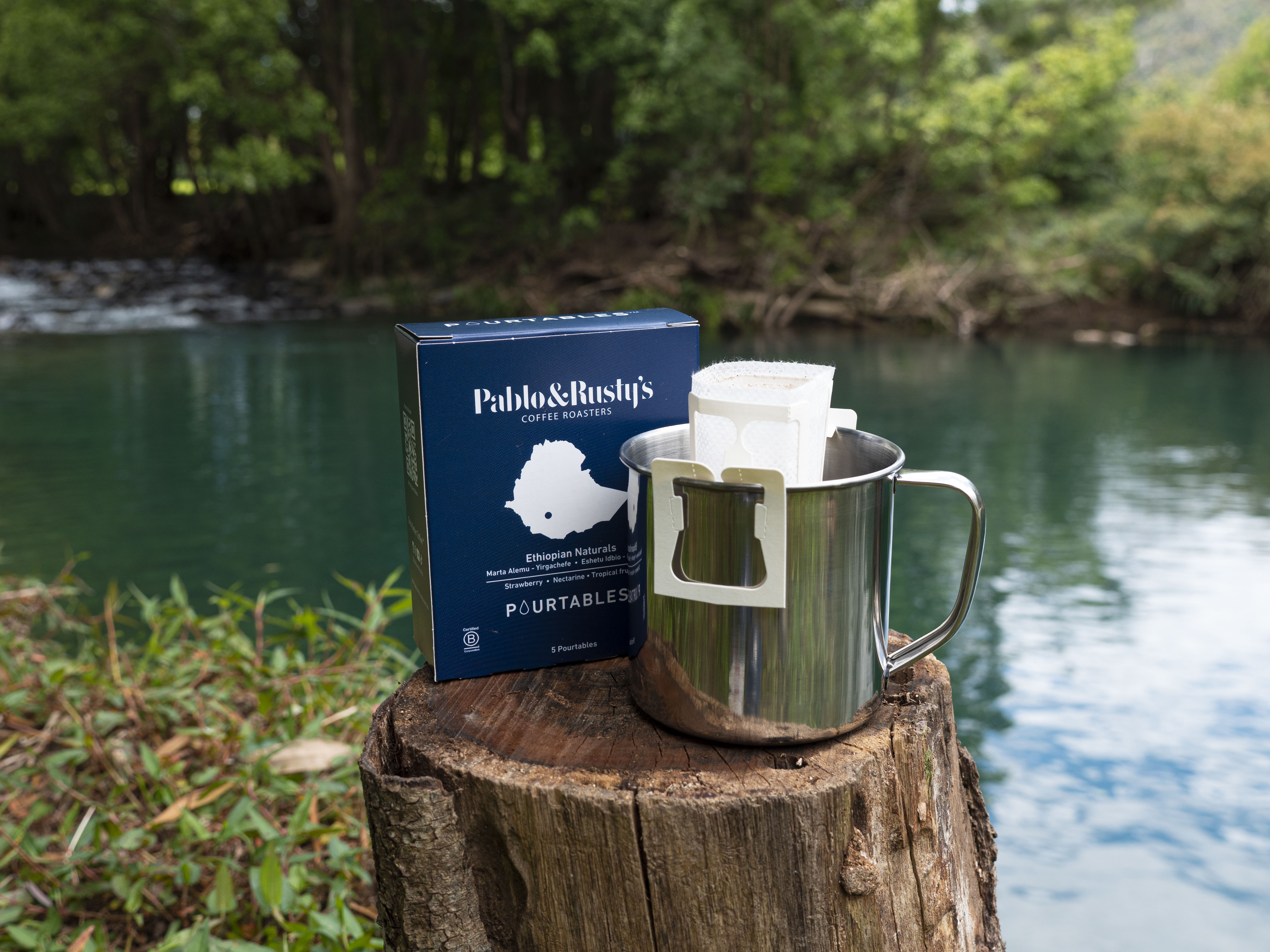 We hope you enjoy brewing with Pourtables as much as we do, and you can enjoy a delicious cup, even on those days when putting your barista hat on feels too daunting.
You can explore the full range of Pourtables here.
Happy Brewing!