Untangle your Christmas lights and turn up the Christmas tunes because our crowd favourite Christmas Blend is back with a new iteration for 2022!
This Year's Blend
What else can get you in the holiday spirit like a festive brew with notes of dried fig, citrus, cherry and marzipan that'll dance a festive jig across your palate.
This year's blend consists of two natural processed coffee's. The first coffee is from Ethiopia. Naturally processed and sweet by nature, bringing a fruity playfulness. The second is from Rwanda. Also naturally processed, this coffee brings depth and complexity with balanced acidity.
Natural sundried, also called "natural process" or "dry process," is the process of drying coffee cherries whole without the intervention of water or machines to remove any of the fruit. Natural process coffee tends to have a slightly fruity and helps bring forward those fruity sugar flavours due to the fact that the bean is in contact with the fruit for a longer period of time than in washed coffee. This can also make natural coffee taste a bit more fermented than washed coffee, where the fermentation is more controlled.
Phil our Head of QA and Brewing (and all round good guy) says "What we like to do with our Christmas Blend is to put something a little different together for our customers. Pairing two fruity naturals gives the coffee a unique fruit intensity that works as a black coffee but also has the strength to pair wonderfully with milk or your favourite dairy alternative. When we select coffee for our Christmas Blend we want coffees that are sweet, with smooth boddy that aids in a creamy mouthfeel that carries those classic Chritmas flavours of dried fruit or spice."
Don't forget the milk and cookies
We have it on good authority (Mrs Claus) that Santa loves this year's blend with or without milk/alternatives. So it's up to you if you brew it black or with milk, Santa won't mind, as long as you finish off the year being kind.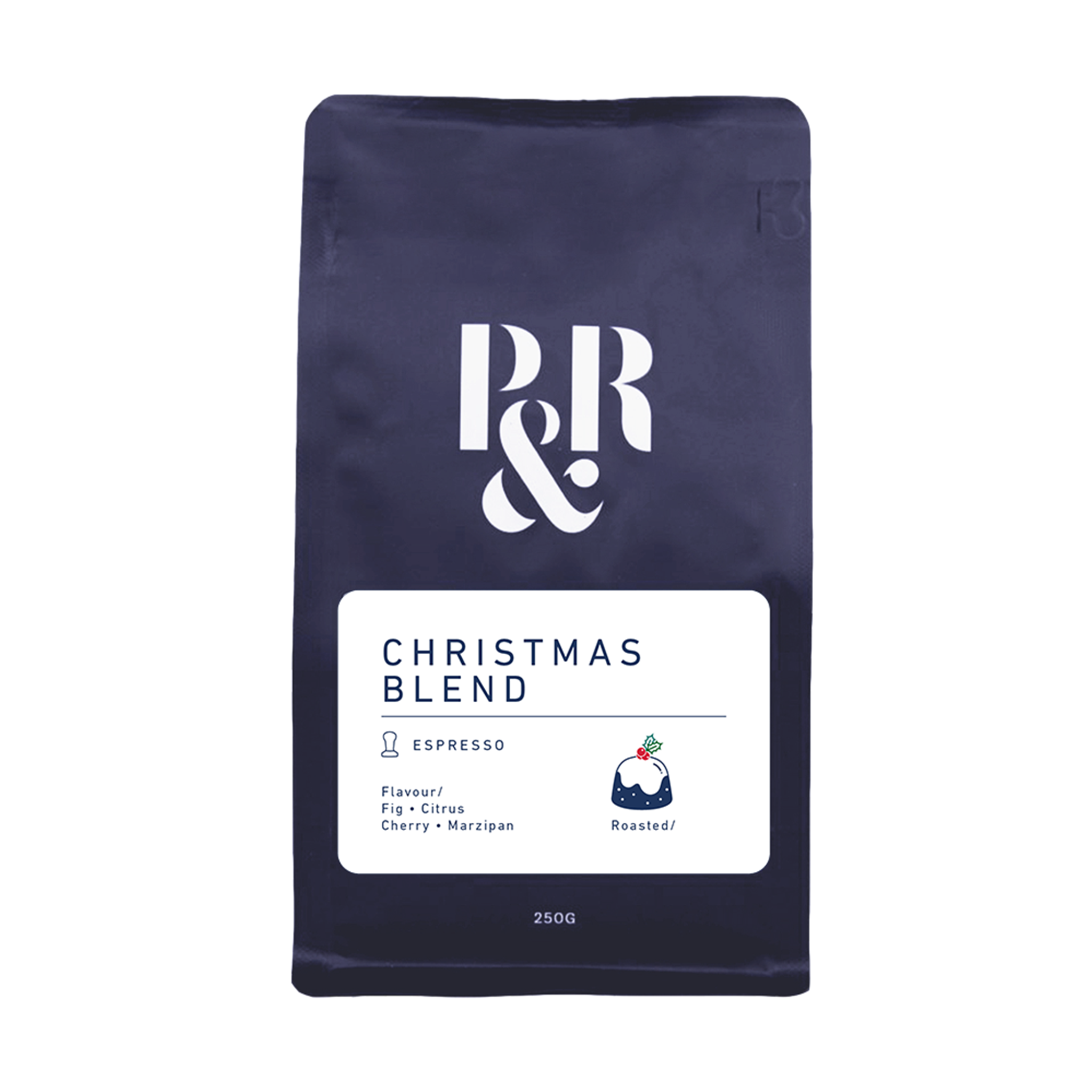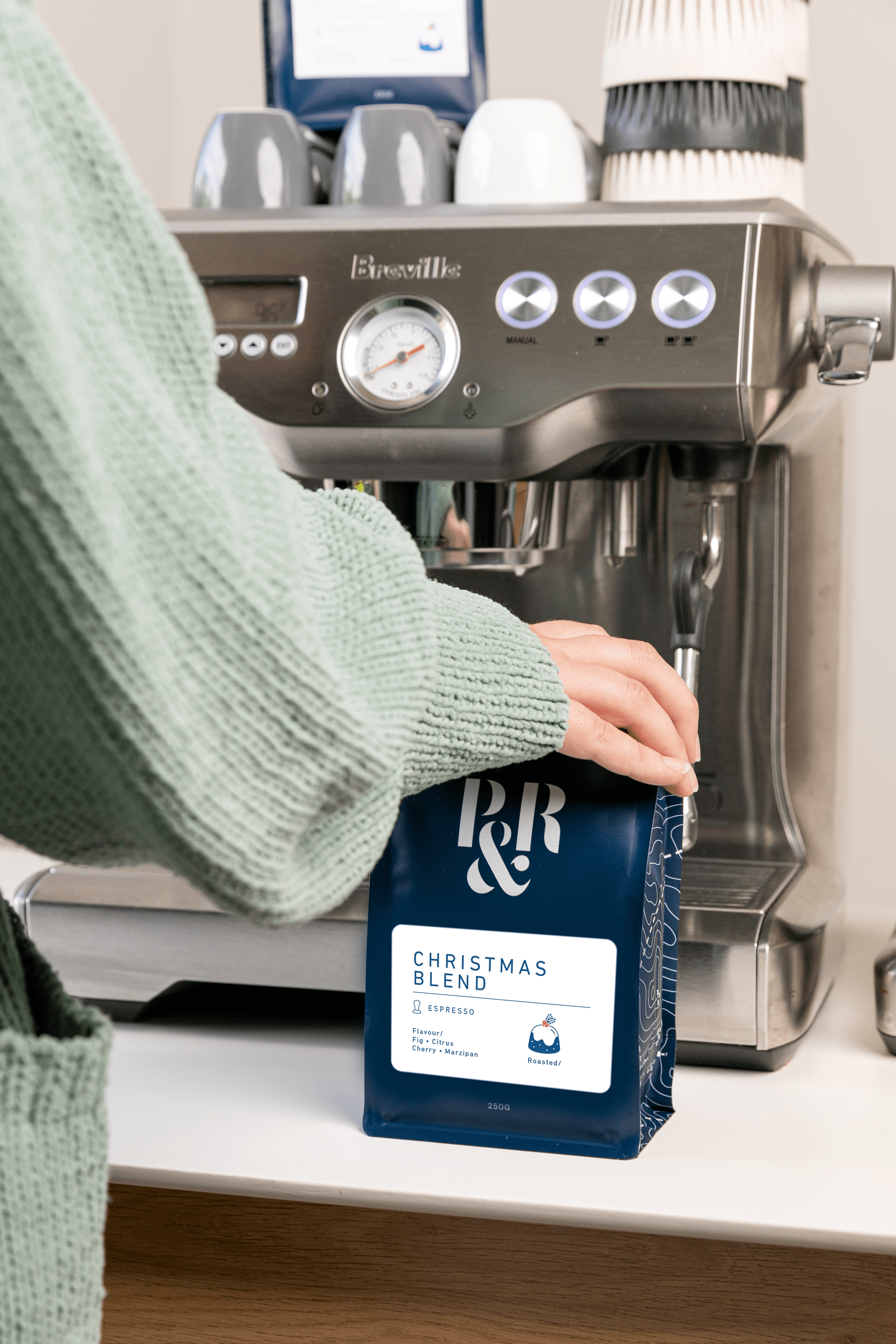 Beans, Pourtables or Pods?
Our Christmas Blend this year comes in three formats to cover a range of brewing methods at home:
For the at home baristas, we have 250g packs of coffee beans so you can enjoy your espresso or milk based brew throughout the holiday. As always, our beans are packed into resealable nitrogen flushed packs to lock in the freshness after roasting.
No equipment? Our new drip bag coffee, or as the P&R elves call them Pourtables, comes in packs of 5 and are perfect for a hassle free brew at home or on the go.
For the Nespresso or Pod brewers, we have Christmas Blend in Classic Nespresso pods which are commercially compostable and biodegradable.
The Perfect Gift for Coffee Lovers
Need a stocking filler or coffee gift? Our Christmas Blend is perfect for the coffee lovers in your life this holiday season… we won't tell if you treat yourself!
Don't wait until Christmas Eve because our first roast will be limited, so it's first in best dressed. But don't worry; we'll make sure we get your festive coffee out to you as quickly as Santa's sleigh.
Merry Christmas from P&R!
Looking to improve your at home coffee setup for the New Year? Click here to explore the full range of Breville espresso machines. P&R is an affiliate of Breville.com/au.