This article is primarily intended for cafes and in particular specialty cafes. Although, any hospitality venue will benefit.
Every specialty cafe has a choice to make: either adjust prices or lower aspects of its offering. There is no other viable short-term option. Let's explore further:
What do you offer: P&R's hospitality framework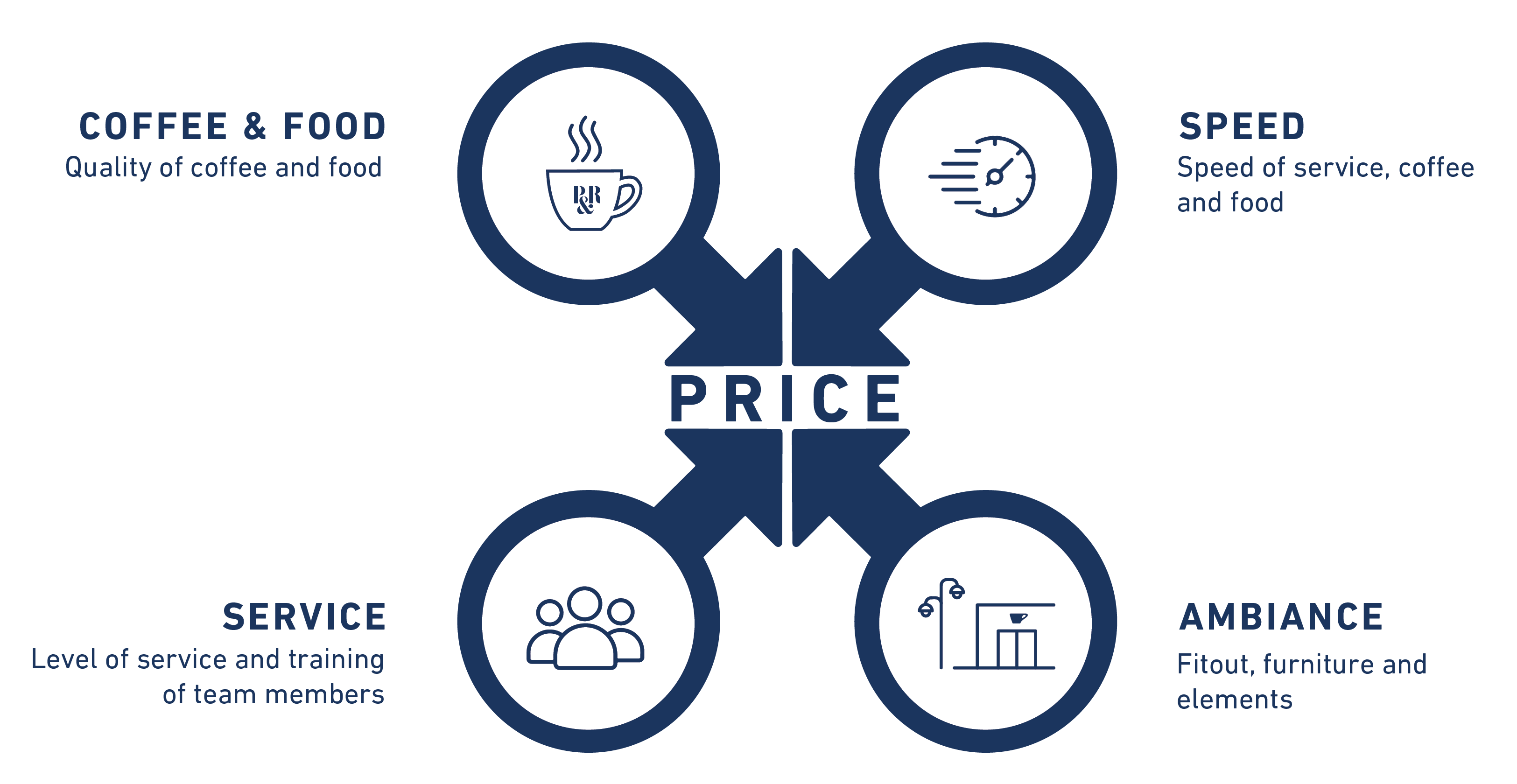 The first place to start is to discuss the important aspects a cafe provides our amazing customers. There are four major aspects: quality of coffee and food, service level, speed of service, coffee, food and ambience. All four aspects are interlinked and supported through the price, cost and value configuration.
We still need amazing staff members, smart technology and great processes to create our experience and delight our customers. However, it's important to focus on the above four aspects to keep the discussion and illustration relevant.
Great cafes understand that all four aspects have to continually be in sync for a coherent experience and business model.
For example, if a cafe wants to improve the quality of its coffee and food, it needs to consider purchasing better raw ingredients, the cafe may need to train up staff to produce the improved coffee and food, the cafe may also need to consider if higher quality coffee and food will impact the speed at which the cafe can produce. Typically, a high level of food and beverage would also need a higher level of service to match. Lastly, all this has an impact on the cost and value structure of the cafe. Therefore, the price needs to be adjusted accordingly or the cafe will be going backwards.
Inflation
Inflation means that the cost of raw ingredients (for coffee and food), wages of staff as well as various inputs have gone up. In some cases, the increases are 20% plus. This means that it's costing the cafe more to provide the same level of quality, service, speed and ambience. Put this another way: the cafe has two choices: either put up prices or drop the level of quality, service, speed or ambience. We believe that in most cases, reducing the levels is not a viable strategy unless a cafe is solely focused on delivering a low-price-focused offering. This is covered further in "where do you play?".
What about technology, automation and process improvement?
Technology, automation and process improvement are important tools and must continue to be used. We are passionate about them as they allow us to provide better experiences to our customers and for our people to focus more on high-value tasks such as experience and interaction. However, technology, automation and process improvements do not provide enough value to overcome 20% input cost increases in the short term. Typically these improvements can be costly and can take precious time to implement, install or enact before seeing a return or impact. Yet, they are and will continue to be important tools.
Where do you play? P&R's Cafe positioning guide
We segment hospitality venues into four spaces based on the type of experience they want to offer. This is illustrated in the P&R Cafe Positioning Guide (™) below.

We believe that most specialty cafes are in the premium segment. Therefore, as a cafe, if you want to be in the premium category and do not choose to raise your prices in response to the inflationary pressures, you are choosing to move from the premium category to the good enough category. And eventually, you will end up in the cost/price focused category.
If that is the category you choose, then there is nothing wrong with that. On the other hand, if you want to continue to focus on the premium category, then your price response (increase) has to be enough to allow you to offer the levels of quality, service, speed and ambience that are relevant to the category.
On the other hand, price is also a signal of quality and position, it sets an expectation. A cafe that is delivering a premium experience yet pricing its offering at a good enough or cost-focused price level, will create a perception that its offering is lower quality than others in the premium category. Therefore, getting pricing matched to the right category is of utmost importance.
Lastly, it is hard for only cost-focused businesses to invest in sustainability, transparency, team development, and ethical supply chains. All of these are important and dear to all of us. Therefore, let's not go down a cost-driven path without recognising the consequences it entails.
For those keen to explore this further, you can keep reading about why adjusting prices is so hard.
Conclusion
Every specialty cafe has a choice to make. We believe the choice also presents an opportunity. We hope that cafes choose to adjust their prices in order to continue progressing the great Australian coffee culture as well as help create a better world through sustainability.
Additional information on the two frameworks:
P&R hospitality framework
| Aspect | Time to change | Effort/Resources required | Explanation |
| --- | --- | --- | --- |
| Coffee and Food | Fast to medium | Medium | Quality of food and bev are dependent on quality of ingredients (and coffee) as well as training and equipment. Quality of ingredients are typically faster and easier to change. On the other hand trained chefs and baristas are needed to improve and maintain the quality and this requires time and effort. |
| Service | Medium | Medium | The level of service is dependent on the team, the culture, the training and the processes. Therefore, this takes time and effort to change and maintain. |
| Speed | Medium | High | Speed is complex and tricky. It needs a great team, the right technology and processes (workflow), smart menu planning and other things. Therefore, time to change and the effort required are considerable. |
| Ambiance | Slow | High | Ambiance depends on the energy of the staff, fitout, the color scheme, the furniture, the cutlery and plates and so on. Some aspects are quick to change. However, areas such as fitout and furniture take a lot of time and resources to change. |
| Price | Fast | Medium | The price levels are fast to change; however, cost structures are slower to change. To maintain the correct pricing, cost and the value structure and have customers continue to support your cafe, requires constant attention to this and all other aspects. |
P&R Cafe Positioning Guide
| Position | Price | Description |
| --- | --- | --- |
| Cost focused | Low | Primarily focused on being the most price competitive. Many businesses couple this with another aspect such as speed as winning on price alone is often difficult. |
| Good enough | Med | Good enough coffee, food, service, ambience and at a good enough price. |
| Premium | Med - High | Premium coffee (specialty), premium food, premium service, great ambience, good speed at a relevant price |
| Luxury | High - Very High | Extraordinary coffee, food, service, ambience at relevant speed at a luxury price point. |